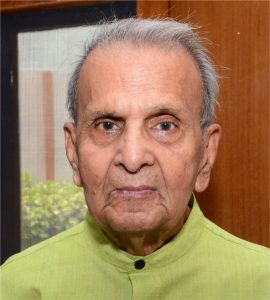 Dr. Jai Dev was born on April 1, 1926, and graduated in Medicine from Gurukul Kangri, Haridwar. After a brief private practice, he founded Lakshmi Medical Hall (LMH), a retail outlet for medicines in Ambala. Over the years, LMH progressed from retail to distribution of medicines and became a well-known name in Haryana, Punjab, Chandigarh, and Himachal Pradesh. His pioneering efforts have resulted in Ambala becoming a center for pharmaceutical distribution.
He is an inspiration for all, starting from modest beginnings he built a successful business and then decided to give back to society. Dr. Jai Dev always had a philanthropic bent and is a very compassionate human being. He has led various socially motivated organizations like Sangeetalok (an organization that promotes Classical Indian Music), Gandhi Peace Foundation, Rotary Club of Ambala, etc. For over 25 years he has been on the executive board of various educational institutions in Ambala, including Arya Girls College, Janta Vidya Sabha, DAV Public School, and Rotary School for Deaf (he has been the school's secretary since its inception in 1985). He has also been on the Court (highest governing body) of Guru Jambeshwar University, Hisar. Dr. Jai Dev has been conferred with various district and state-level awards.
In 2002 he founded Ambala College of Engineering and Applied Research. He was also the President of the Haryana Chamber of Commerce and Industry (1995-97). Dr. Jai Dev, He was awarded the "Service Above Self Award" by Rotary International, a rare honor bestowed upon only 150 Rotarians from all over the world. Dr. Jai Dev's support has been instrumental in setting up the Rotary Ambala Cancer and General Hospital and he is very actively involved in the day-to-day functioning of the hospital.