Achievements
The first student of our school Miss Anju Dua had represented India in Asiad and awarded Arjun Puruskar in disable category by sports authority of Govt. of India. She is today serving as Astt. Gymnastic coach in Ambala.
In the year 1997-1998 , 4th Northern India Taik-Wando Championship and Distt. Wushu Championship was held at Sonipat. Our students got Gold & Silver medals.
Our School Won 1st Haryana Deaf & Dumb Athlete Meet Champion Trophy in 2002 at Ambala.
Runner up Trophy for the year 2003 at gurgaon.
In 2004 this School got again Champion Trophy of Haryana Deaf & Dump Athlete Meet at Faridabad.
School won special prize in sports and cultural competition organized by Sarv Shiksha Abhiyan in 2005.
In the same year school won II Prize in World Disability week Conducted by Deaf way, Chandigarh.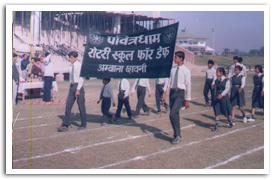 Km. Shivani and Archana
Our two School Students Km.Shivani and Archana Chauhan both have got national award for their painting
Their paintings were selected from the Distt. Harayana, Child Welfare Council organized 'on the spot' Painting competition. Every year to celebrate Bal Divas 14th November.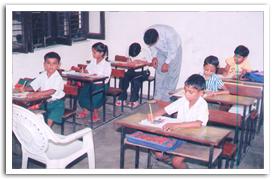 We are happy that school has provide facilities and a plate form to express the emotions and imagination of the deaf children. We develop the creativity of the each child according his level.
'Helen Keller' Award got by our two students Km. Sampada Chauhan and vijay Singh. Presented by 'Deaf Way' Chandigarh. We are giving Yoga Training to all the students of this instutions in the school premises daily in the morning to keep them fresh and fit.
Trophy by Sarav Shiksha Abhiyan 2005 and 2006
Our School students did their best and won Champion Trophy, 3 students of our school's X- Student is selected National Deaf Cricket Team and at present he is playing for India.
Cultural
Our School has participated regularly in various competition conducted by Sarv Shiksha Abhiyan for the last three years and wonso many Gold and Silver Medals. Our School got 1st Prize in Quiz Competition.In 2006-2007 National Cultural Competition which was held in Indore. We are proud that our school students received 1st prizes in Dance Competition Solo and Group dance both. One of the student of our school Km. Charu Malik won the best Actress Award (Female).